BENEFITS
Cellglo M'Rcal Silk Mask contains a wide range of highly concentrated botanical ingredients that provide extra soothing, brightening, hydrating and firming effects to your skin. Excellent soothing property of this Cellglo M'Rcal Silk Mask to calm your skin from irritation and protect your skin from environmental stress. Suitable for all skin types.
5 NOs of this mask: NO Alcohol, NO Emulsifier, NO Stabilizer, NO Artificial Fragrance, NO Paraben.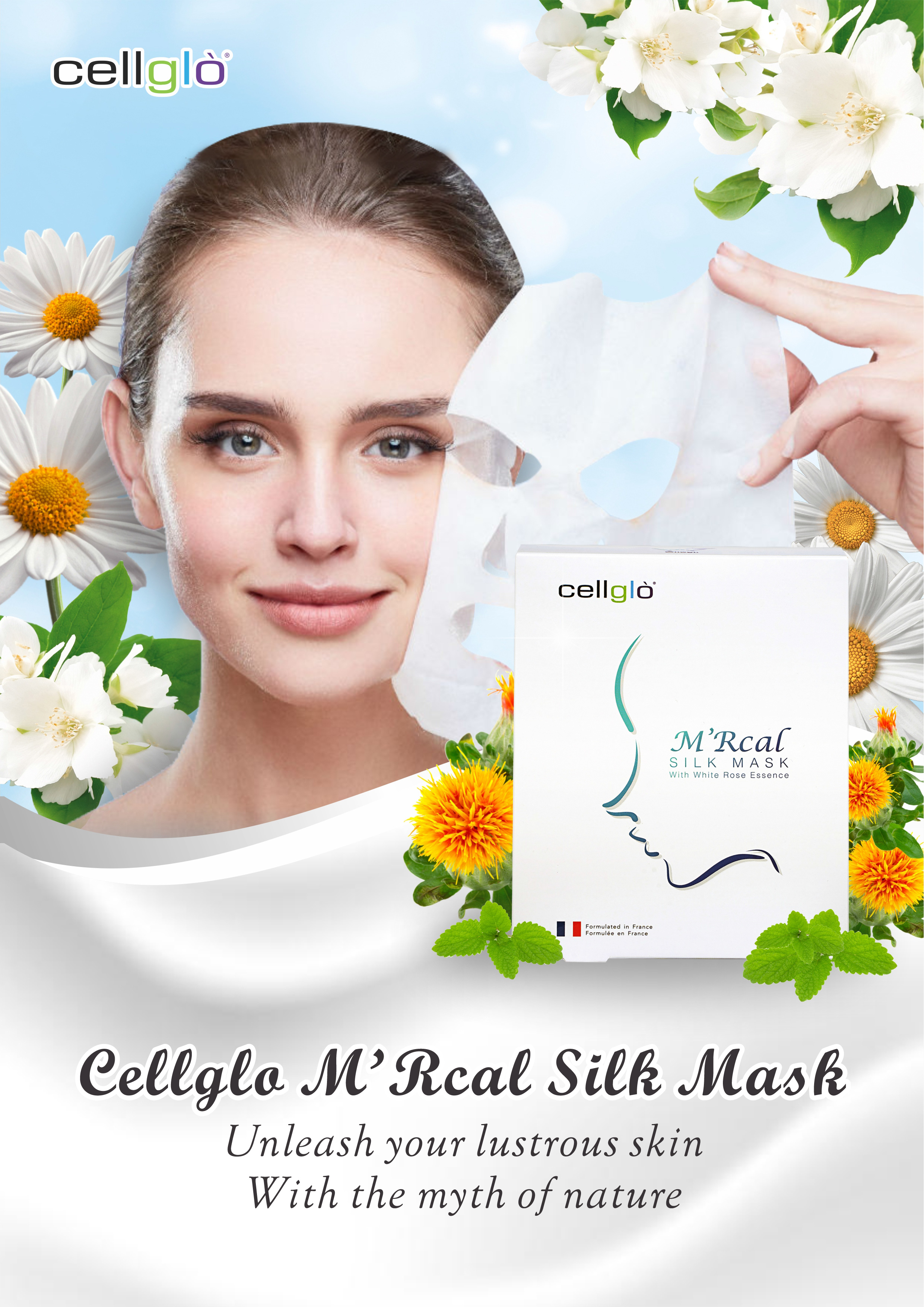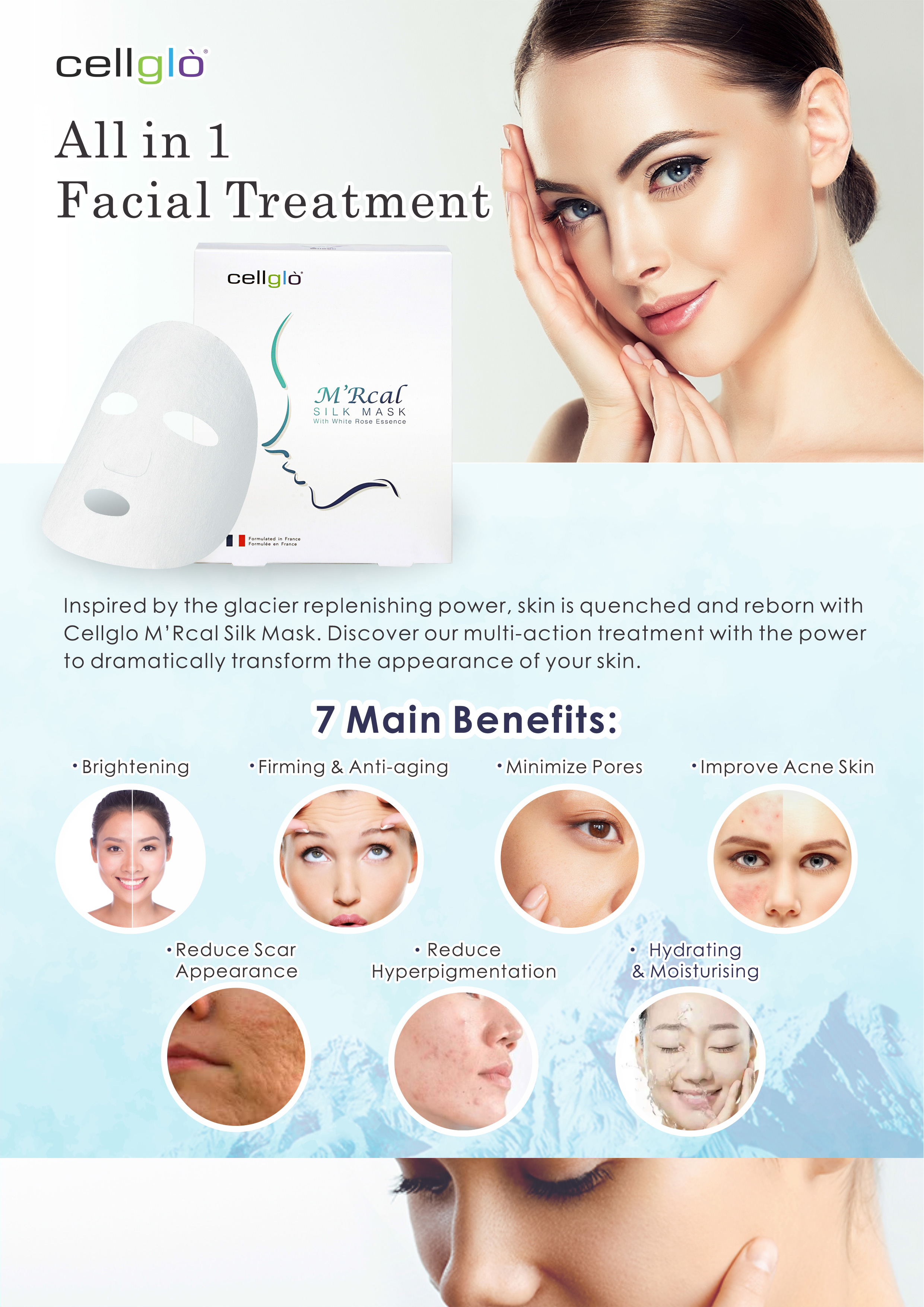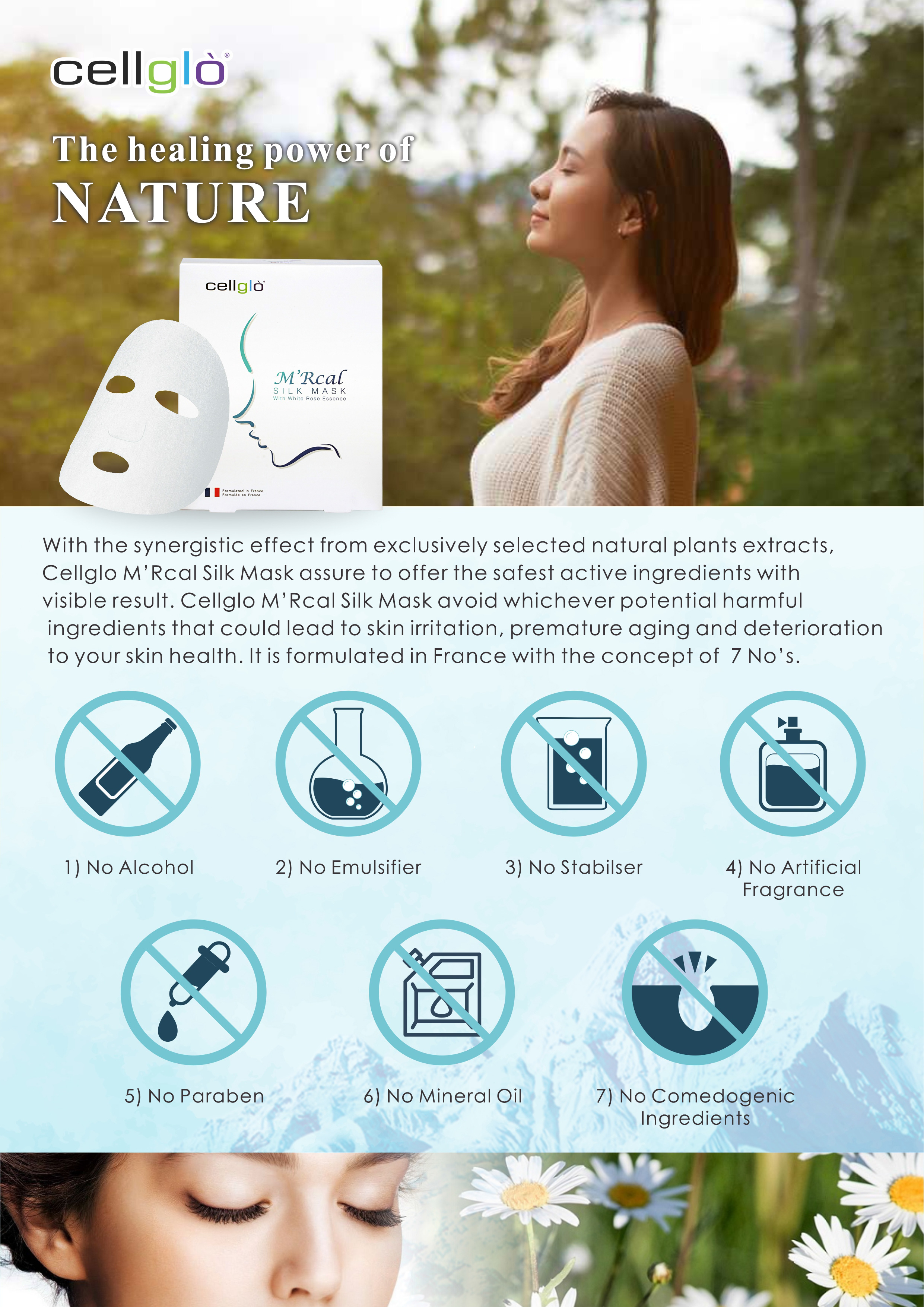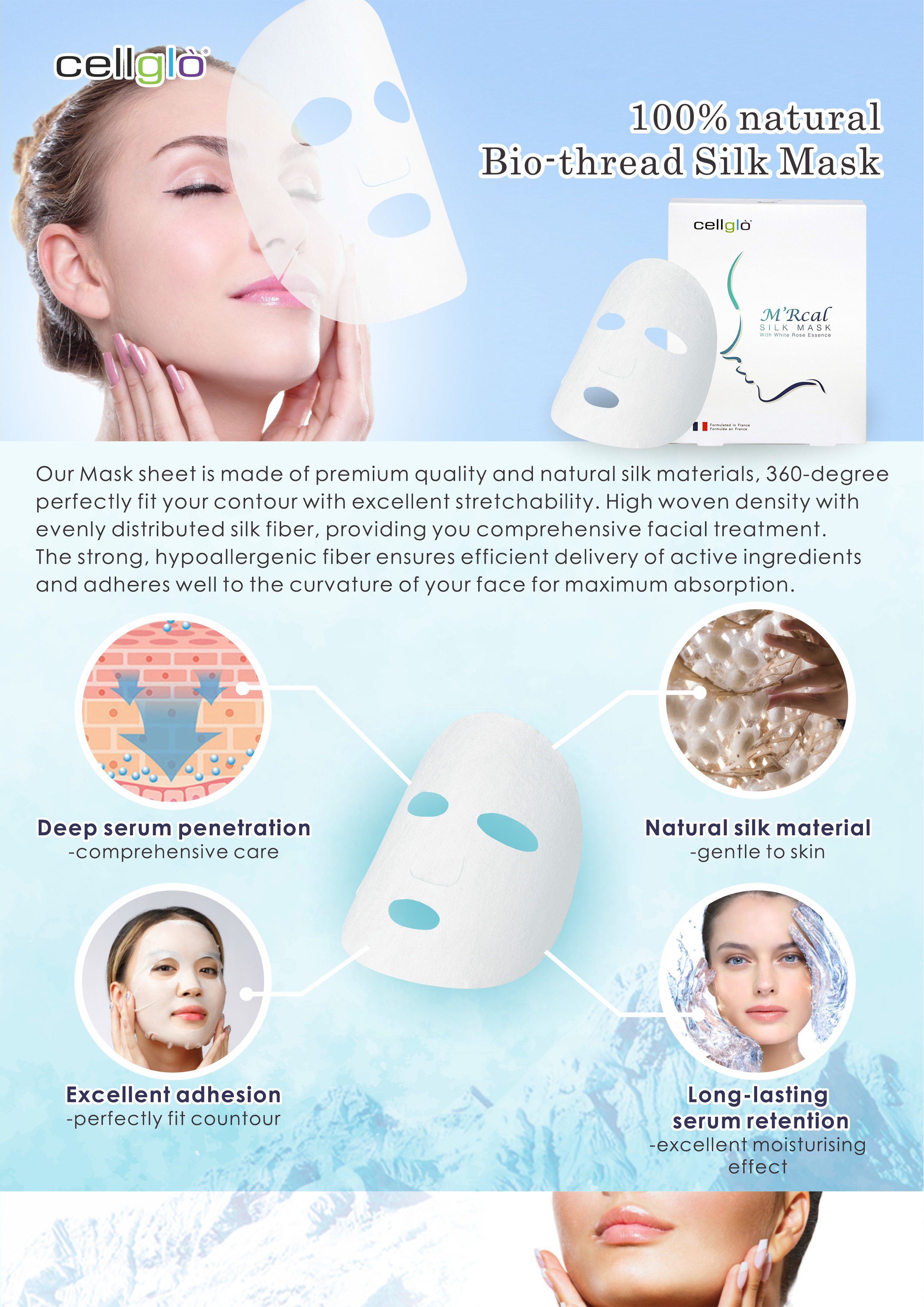 INGREDIENTS
Rosa Rugosa Flower Water, Bellis Perennis (Daisy) Flower Extract, Linolenic Acid (Safflower Oil ~Omega-3), Melissa Officinalis Leaf Extract, Phospholipids (Plant), Poria Cocos Extract, Aqua (Glacier Water), Glycerin (Plant), Aloe Barbadensis Leaf Extract, Honey, Sea Salt, Glycine Soja (Soybean) Phytoplacenta Extract, Ethylhexylglycerin, Foeniculum Vulgare (Fennel) Fruit Extract, Humulus Lupulus (Hops) Extract, Viscum Album (Mistletoe) Leaf Extract, Chamomilla Recutita (Matricaria) Flower Extract, Achillea Millefolium Extract, Allantoin, Phragmites Communis Extract, Sphingolipids (Plant), Hyaluronic Acid, Fucus Vesiculosus Extract, Hedera Helix (Ivy) Leaf Extract, Citrus Aurantium Amara (Bitter Orange) Peel Extract, Rosmarinus Officinalis (Rosemary) Leaf Extract, Linoleic Acid (Safflower Oil Omega-6)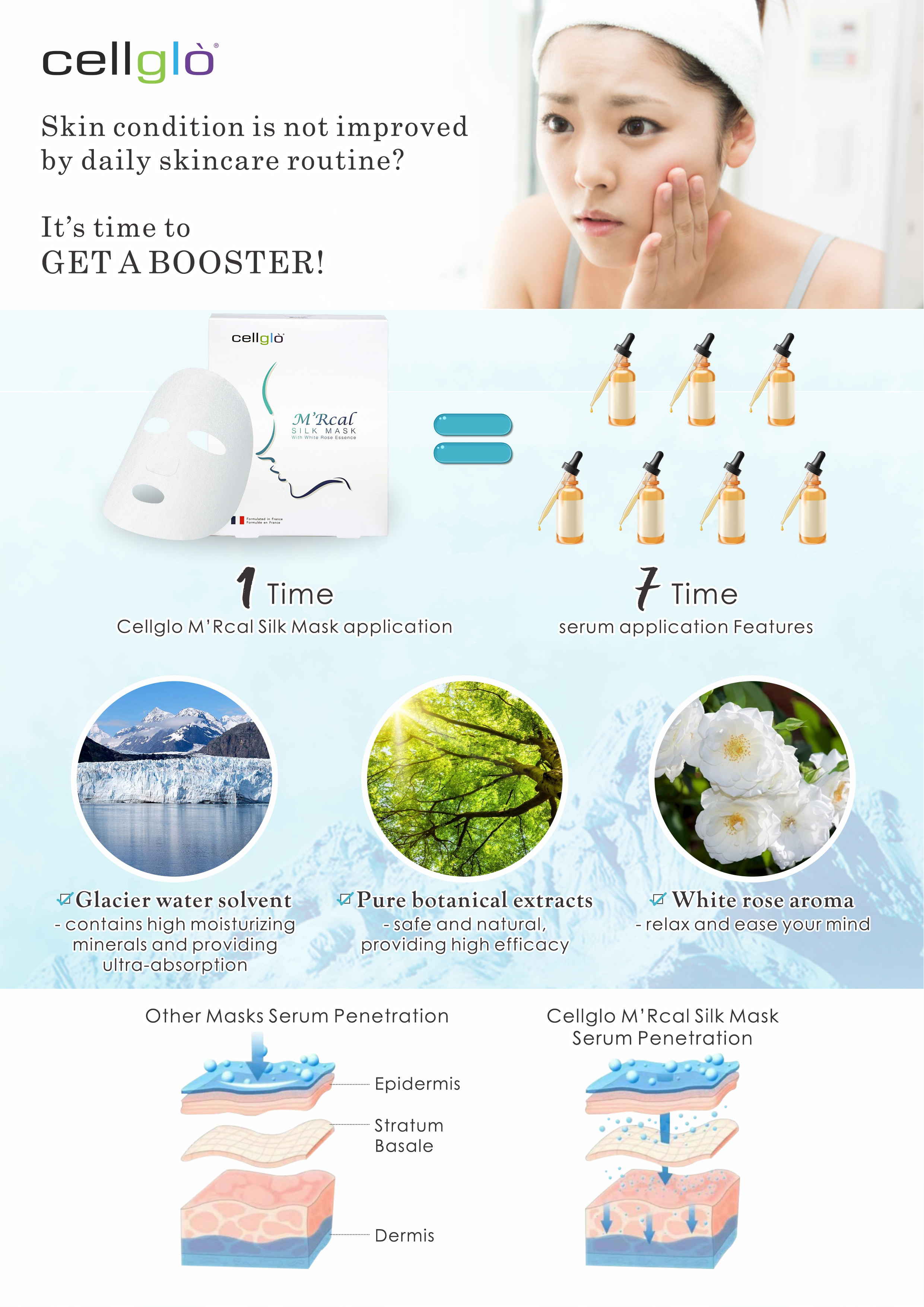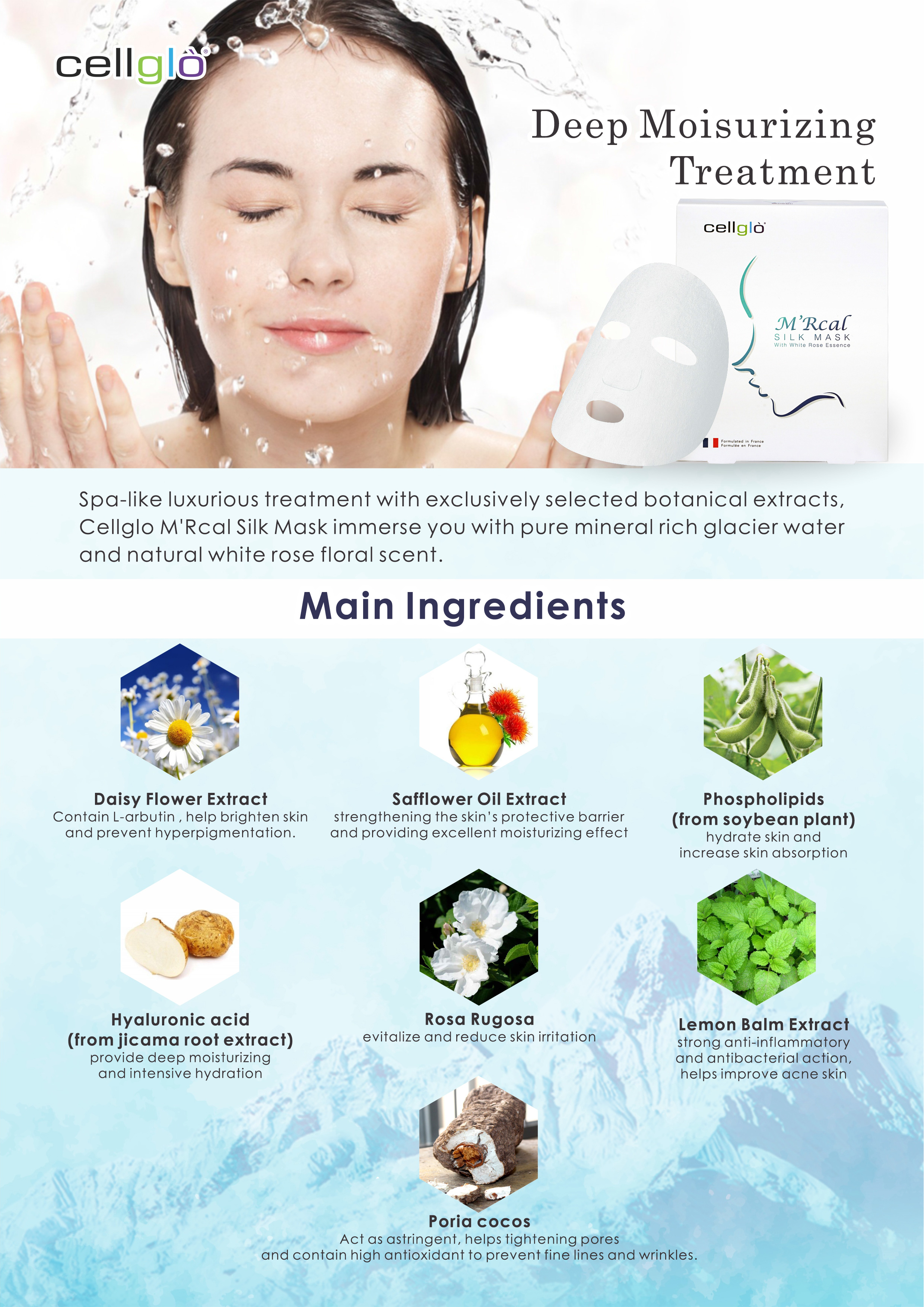 DIRECTIONS
Take out the mask sheet from the package and unfold it.
Gently apply the mask sheet around your eye area then smooth it to fit the curves of your face contours. Please avoid contact into eyes.
Leave it on your face for 15 - 20 minutes before drying out.
Remove the mask sheet before drying out and rinse off with water. Followed by Cellglo skincare products.
*For best result, recommend using 3 times a week.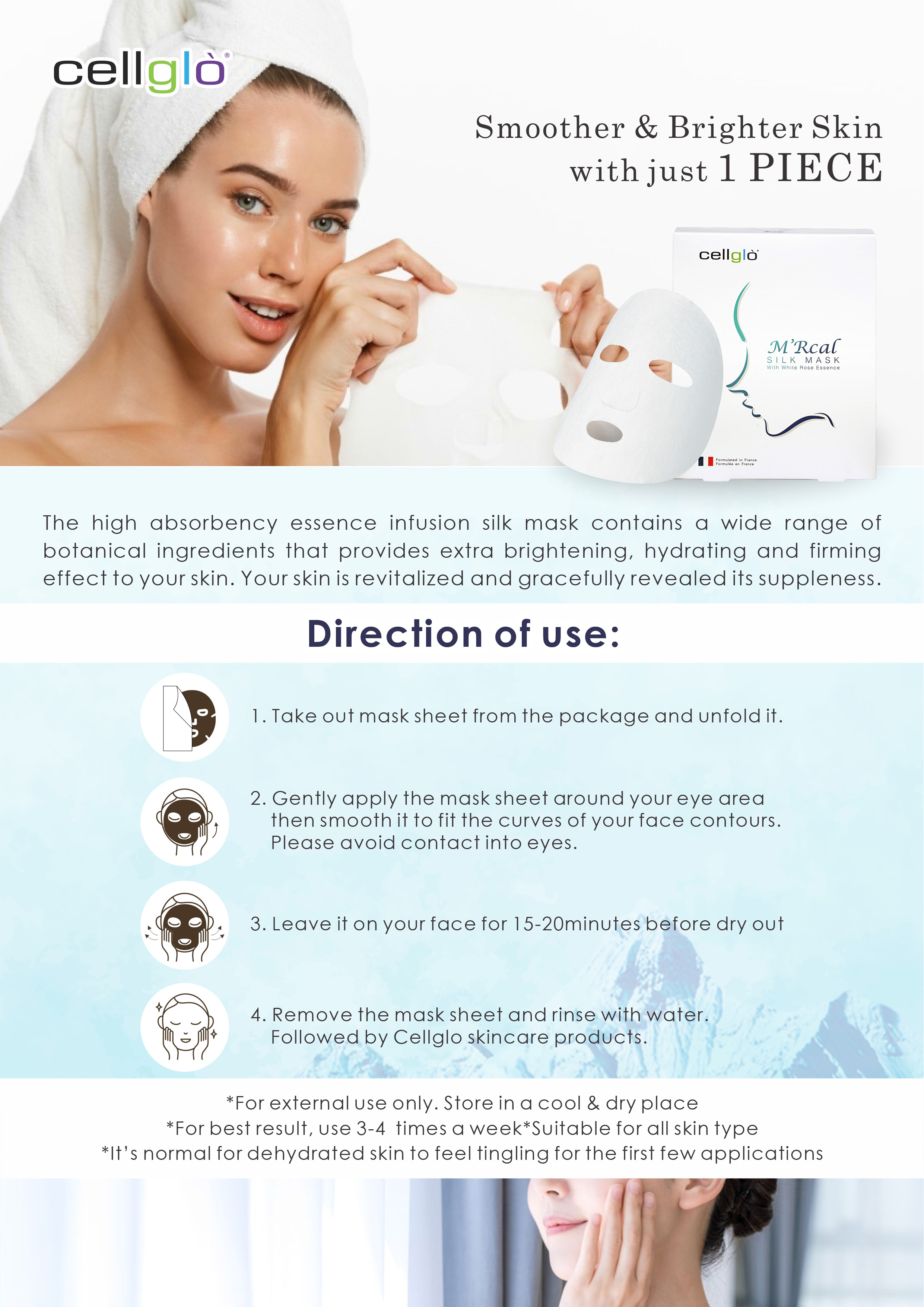 FAQ
Why is my skin irritated or redness after applying the mask?
Damage of the skin's epidermis, lack of water, use of acid-based skincare products, or frequent exfoliation can easily cause the skin to become red and tingling after applying the mask.
---
How to tell if the face is allergic or dehydrated after applying the Cellglo M'Rcal Silk Mask?

Allergies and lack of water can cause redness and tingling of the skin. If the skin is dehydrated, the repair time is relatively quick (half an hour to two hours); if the skin is allergic, the condition will last for one to two days.
---
Why is it not recommended to put the mask in the refrigerator?
A chilled facial mask shrinks the pores, and the ingredients cannot enter the skin, and can only be absorbed by the epidermis layer.
---
Why do we have to rinse our faces after using the mask?
The excessive serum will only stay on the surface of the skin, which will become a breeding ground for bacteria, causing acne and other skin problems.
---
Can the essence of Cellglo M'Rcal Silk Mask be kept for next use?
It is not recommended to store for more than two days, because the Cellglo M'Rcal Silk Mask does not contain alcohol or stabilizers. It is easy for bacteria to grow after exposure to air.
---
How often do I need to apply Cellglo M'Rcal Silk Mask?
For best result, recommend using 3 times a week. This is because applying one sheet of Cellglo M'Rcal Silk Mask is equivalent to applying the essence seven times or 20 sheets of normal masks.
NET WEIGHT
20ml x 6 sheets / box
TESTIMONIAL
Our Happy Customer 1
"I fell in love with this mask! It didn't break me out (which I was worried about because my skin is super sensitive) and it's super moisture! I'm buying this as one of my go-to masks!"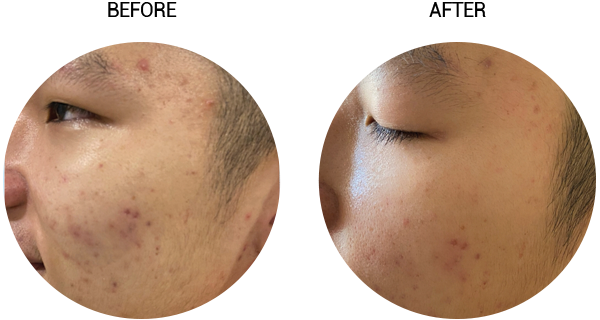 Our Happy Customer 2
"Great at calming and getting skin back to normal! It doesn't have a particularly strong scent which is good and helped with irritated skin due to maskne."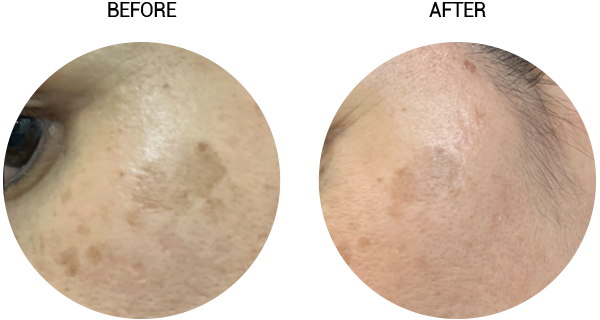 Our Happy Customer 3
"I used this Cellglo mask along with their 3 in 1 skincare products. Wow, the dark spots and pigmentation on my face are lightening after 2 months."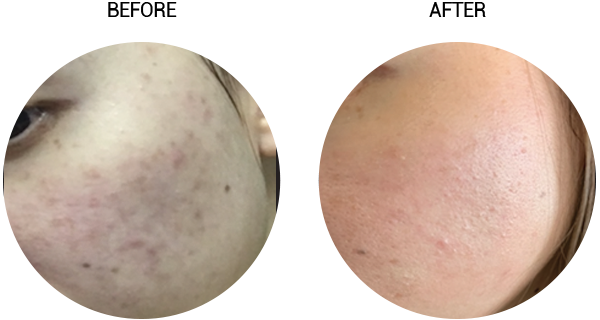 Our Happy Customer 4
"There are many kinds of masks on the market, but I don't use them because my skin is very sensitive. Cellglo's mask is moisturising, and at the same time it reduces skin irritation."
Customer comments
| Author/Date | Rating | Comment |
| --- | --- | --- |