BENEFITS
Cellglo Bundle SA15 Contains
1 x Deep Cleansing Bar
1 x Creme21
1 x Moisturising Sunscreen
1 x Crystal Eyes
---
Skin Care Set
Simple and easy skincare routine with natural ingredients. Solve your skin problems with just 3 steps - Cleansing, Moisturising and Protection. Save your time more effectively!

7 No's: NO artificial colouring, NO artificial fragrances, NO SLS, NO mineral oil, NO alcohol, NO comedogenic ingredients, NO paraben.
---
Crystal Eyes
Cellglo Cyrstal Eyes provides comprehensive protection to your eyes with Lutein and Astaxanthin. Daily consumption can help in reducing eye strain and preventing or improving the condition of 11 eye diseases.
Including: Shortsightedness (Myopia) / Cataracts / Dryness / Presbyopia / Astigmatism / Lazy Eyes (Amblyopia) / Floaters / Glaucoma / Night Blindness and Retina Pigment Epithelium (R.P.E.) / Detached or Torn Retina / Age Macular Degeneration (AMD)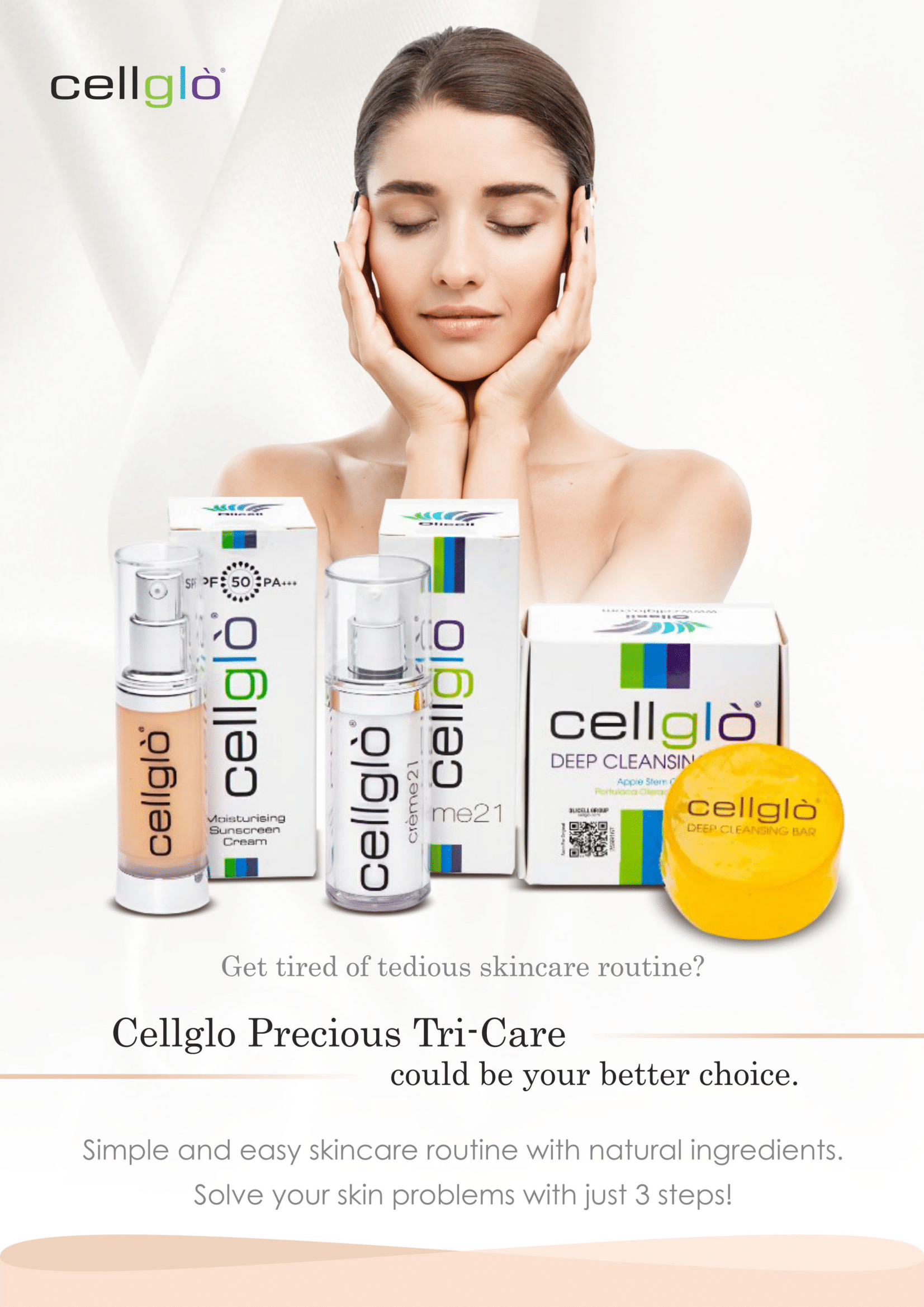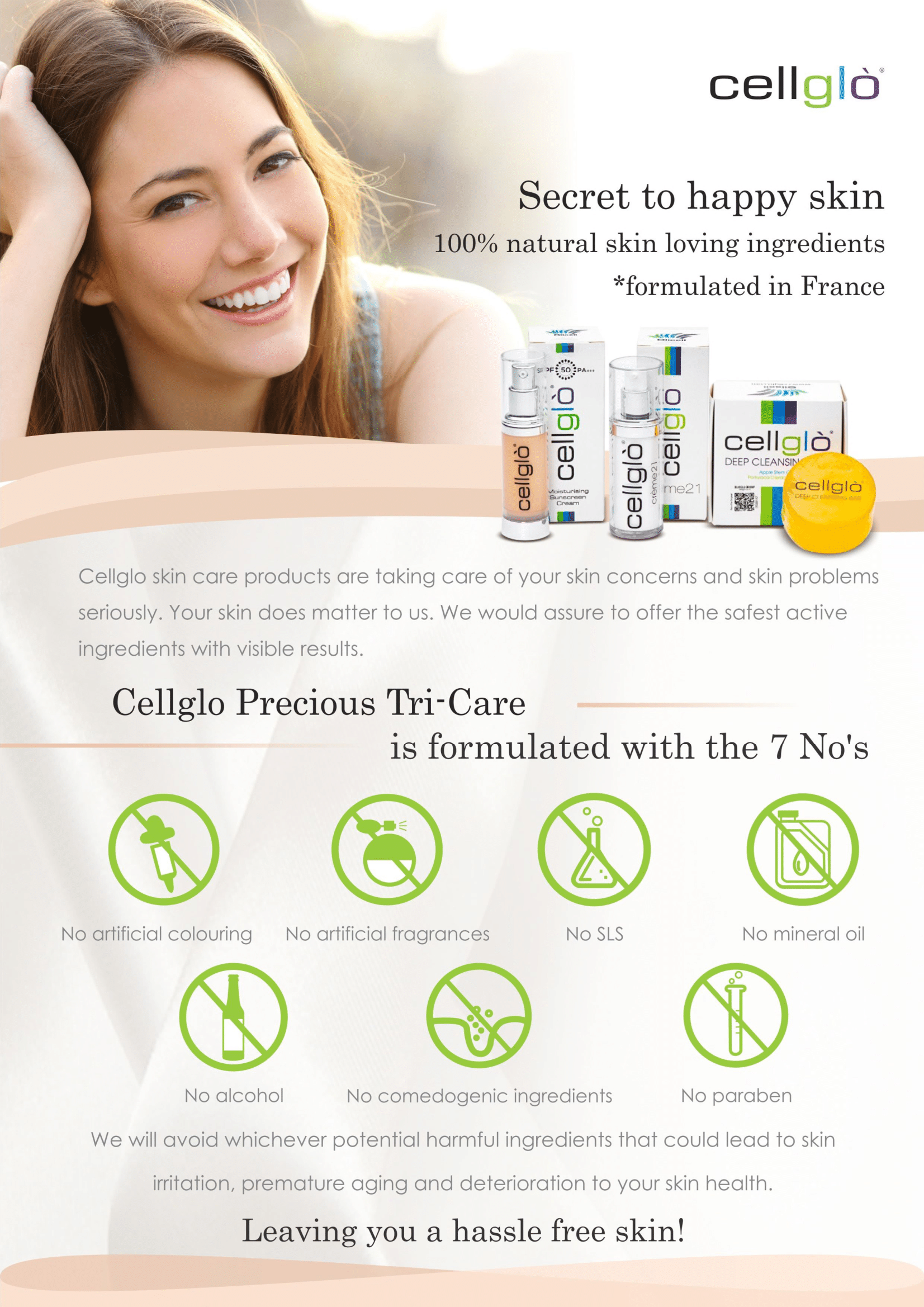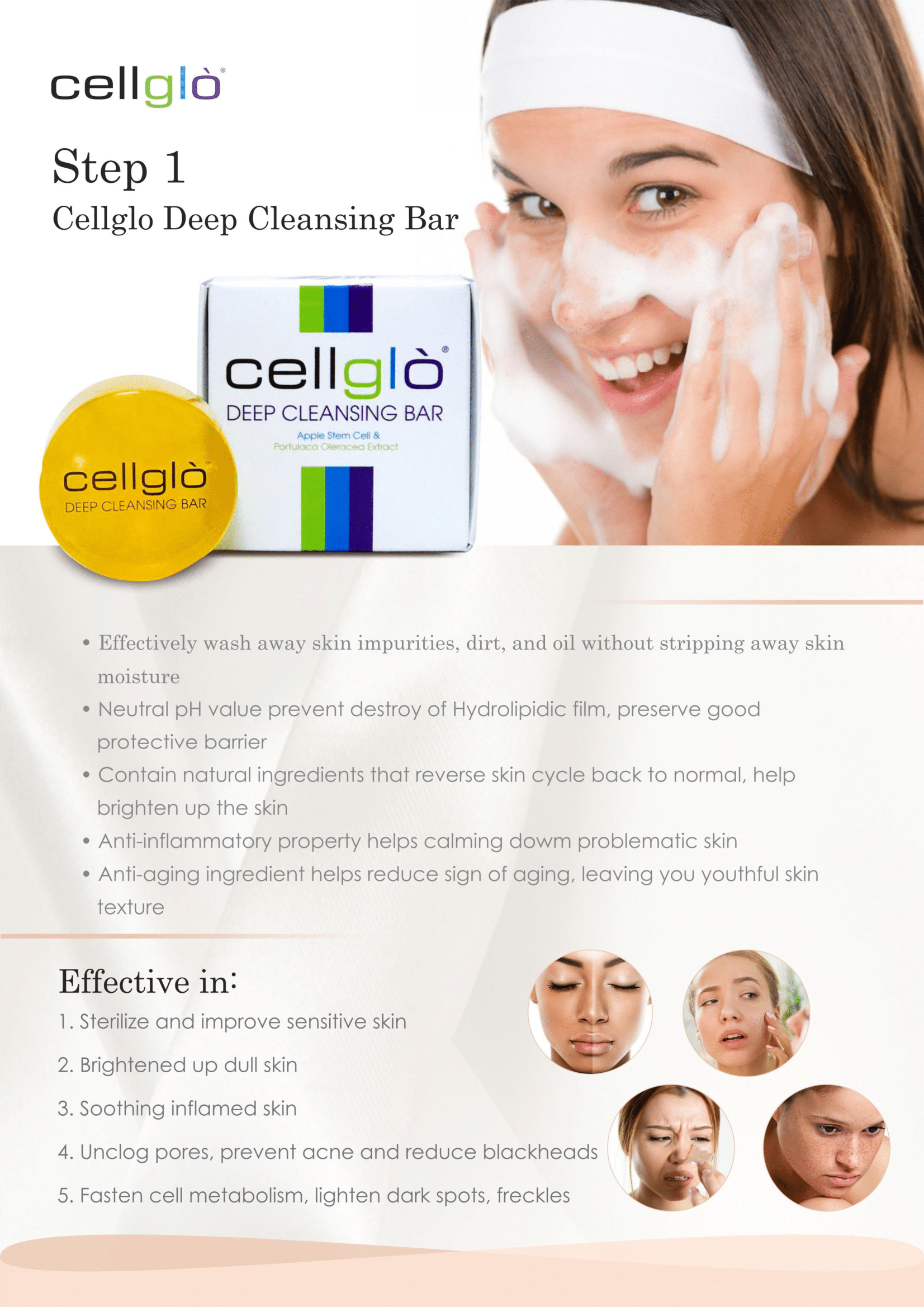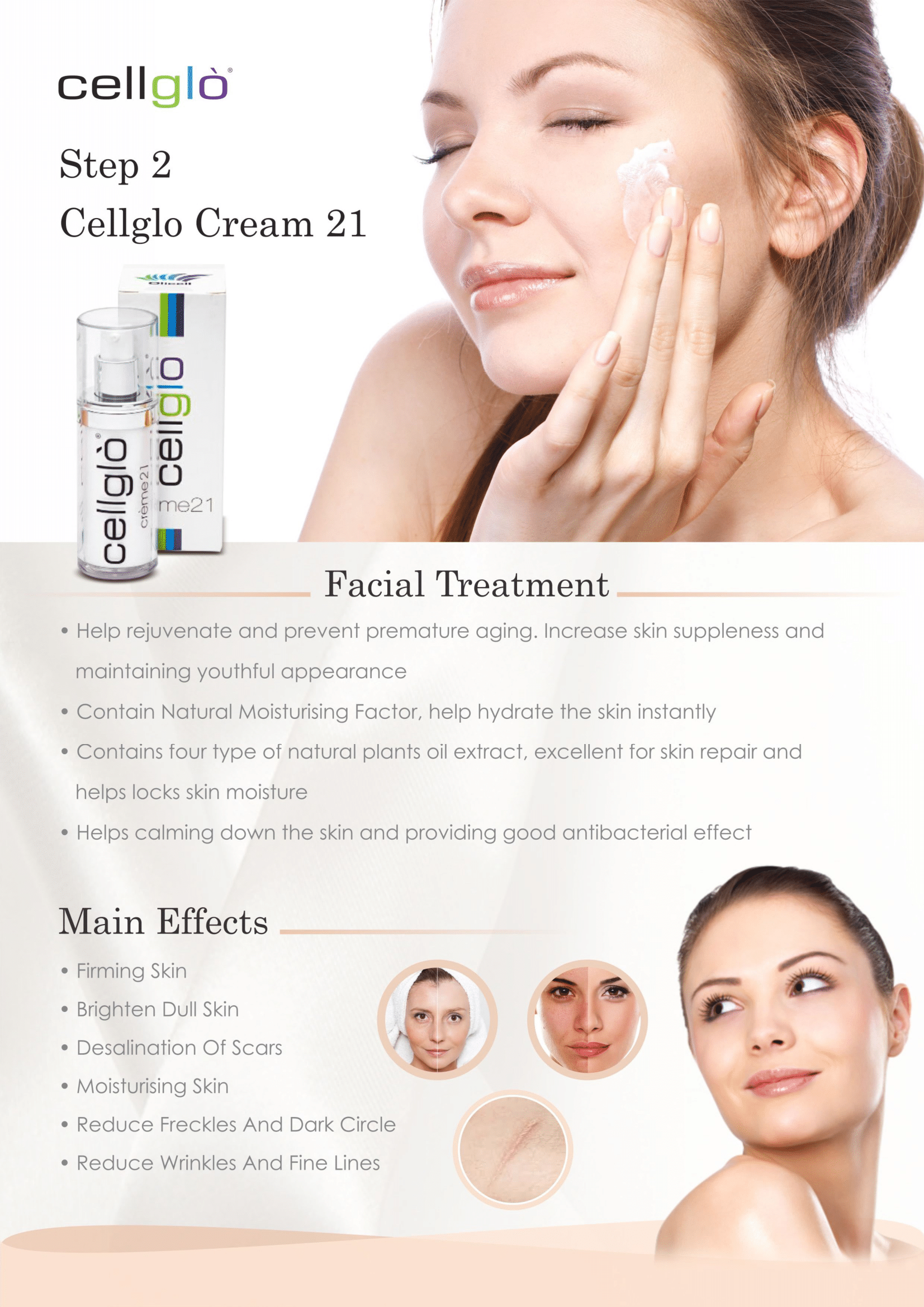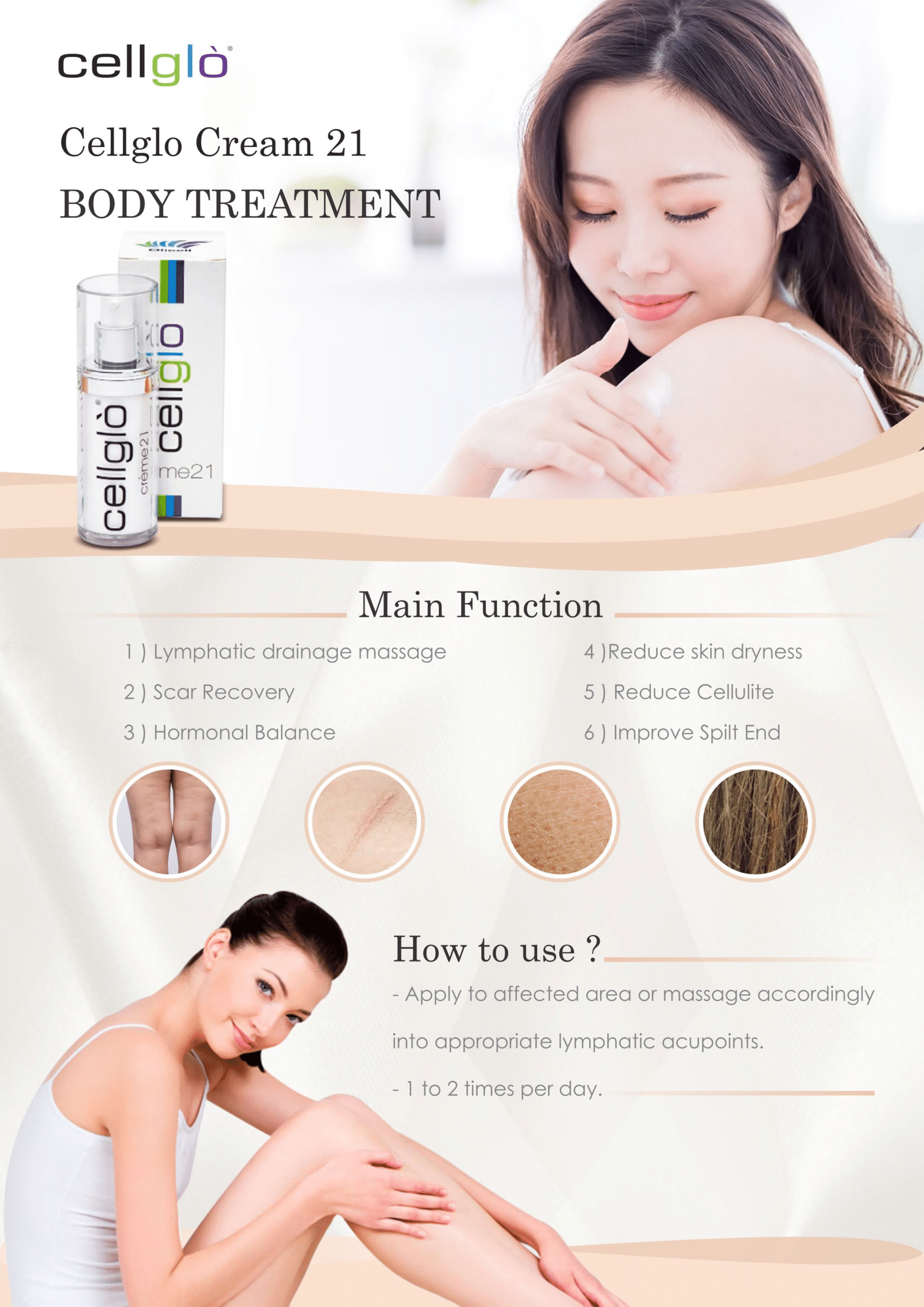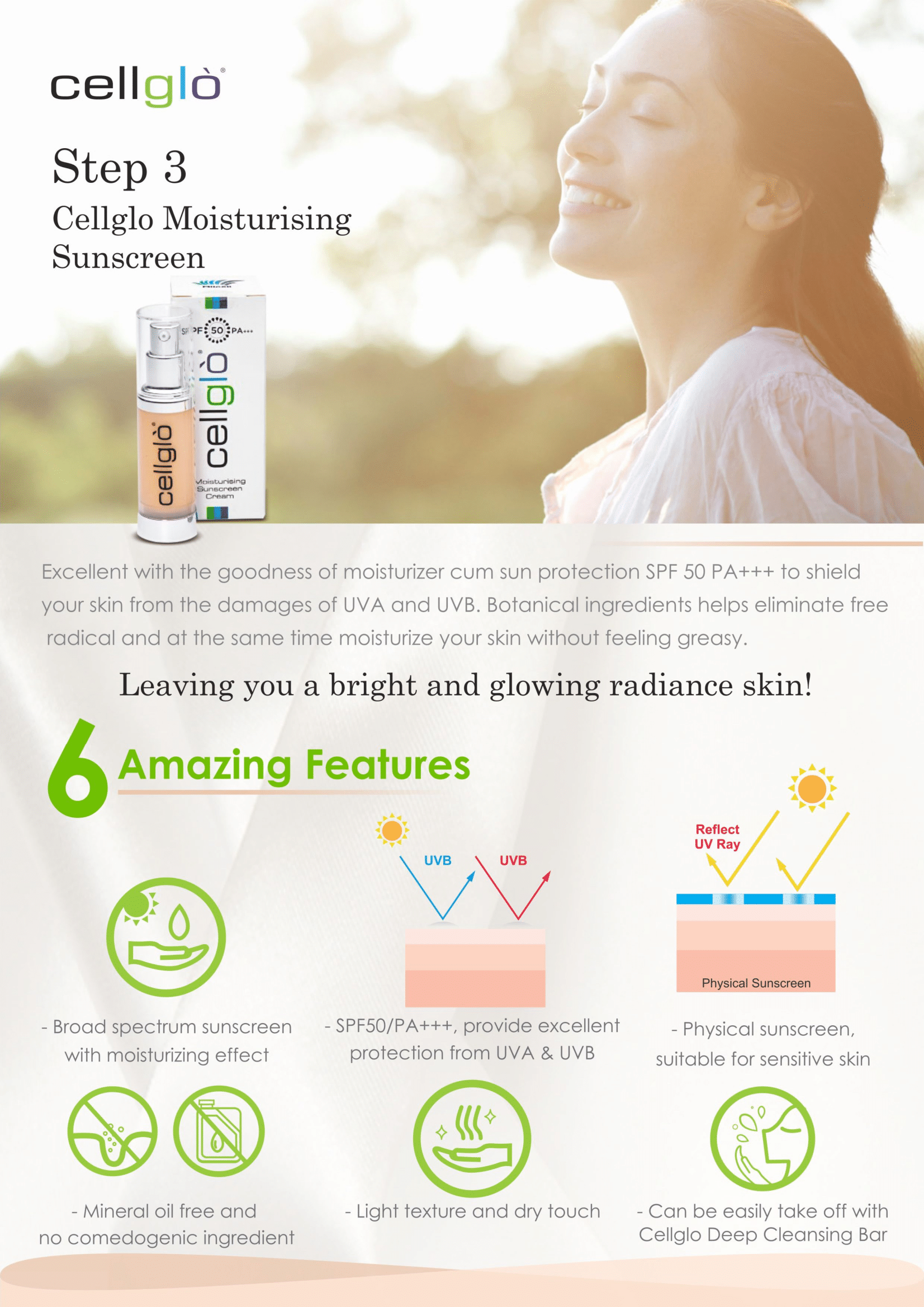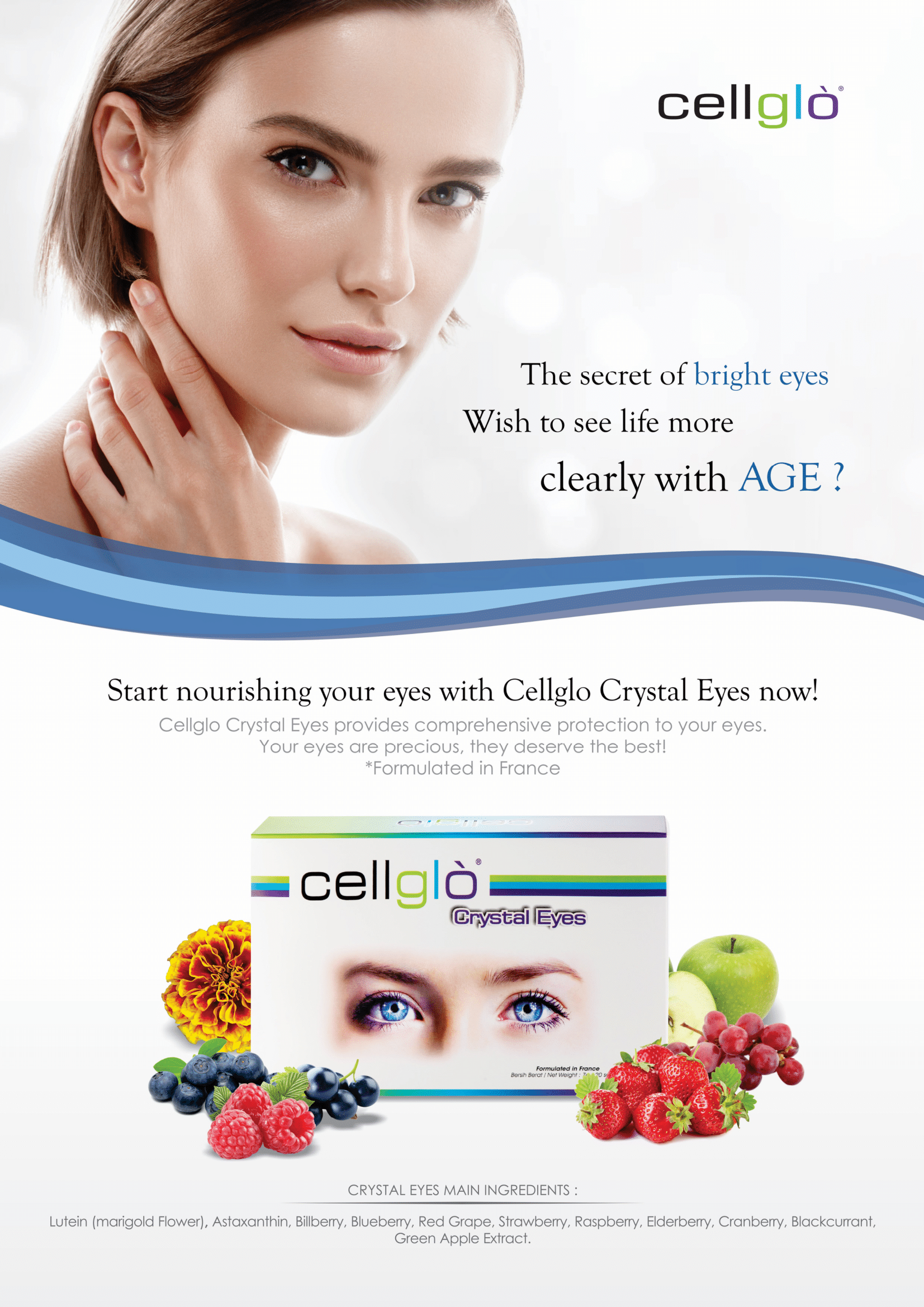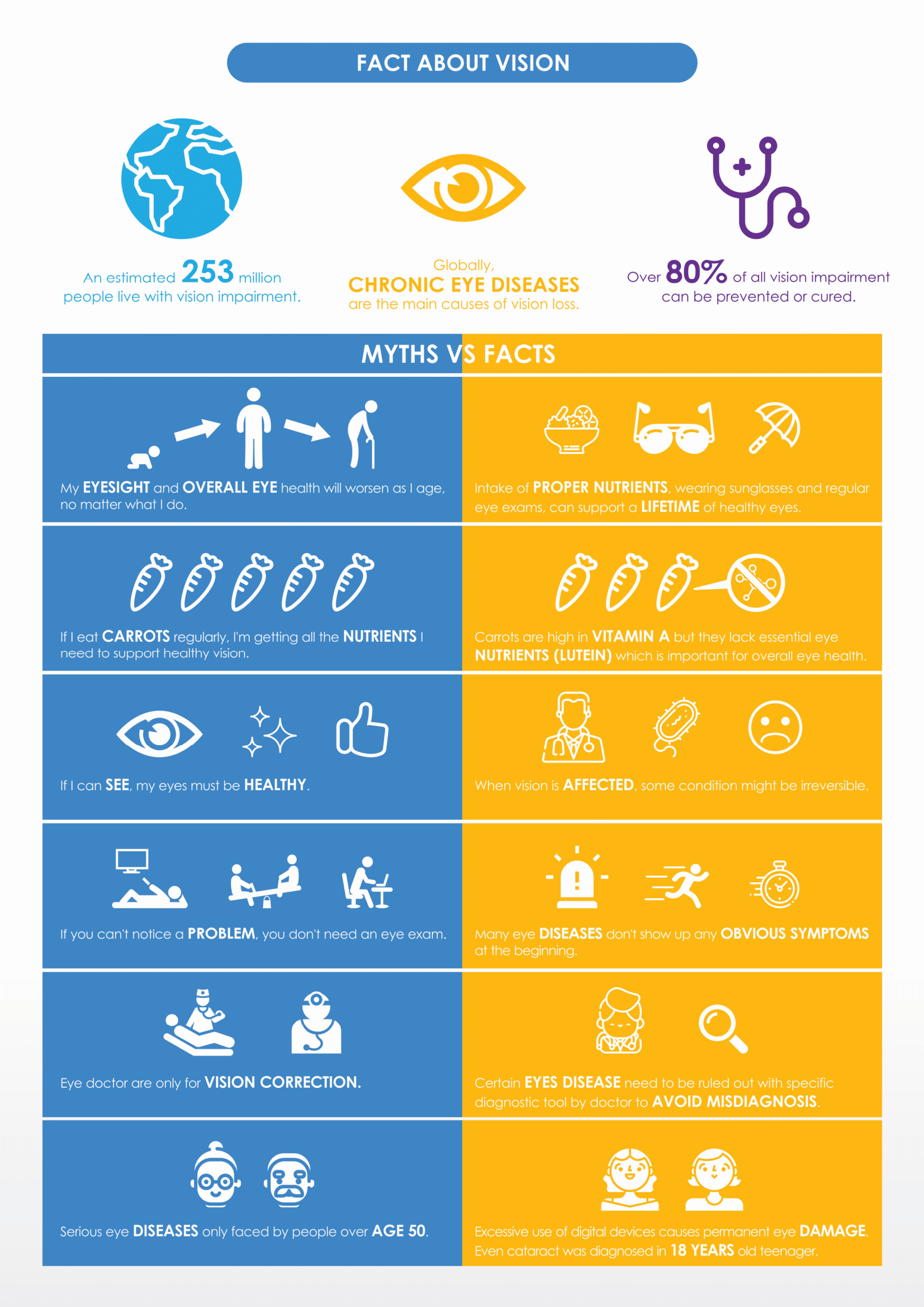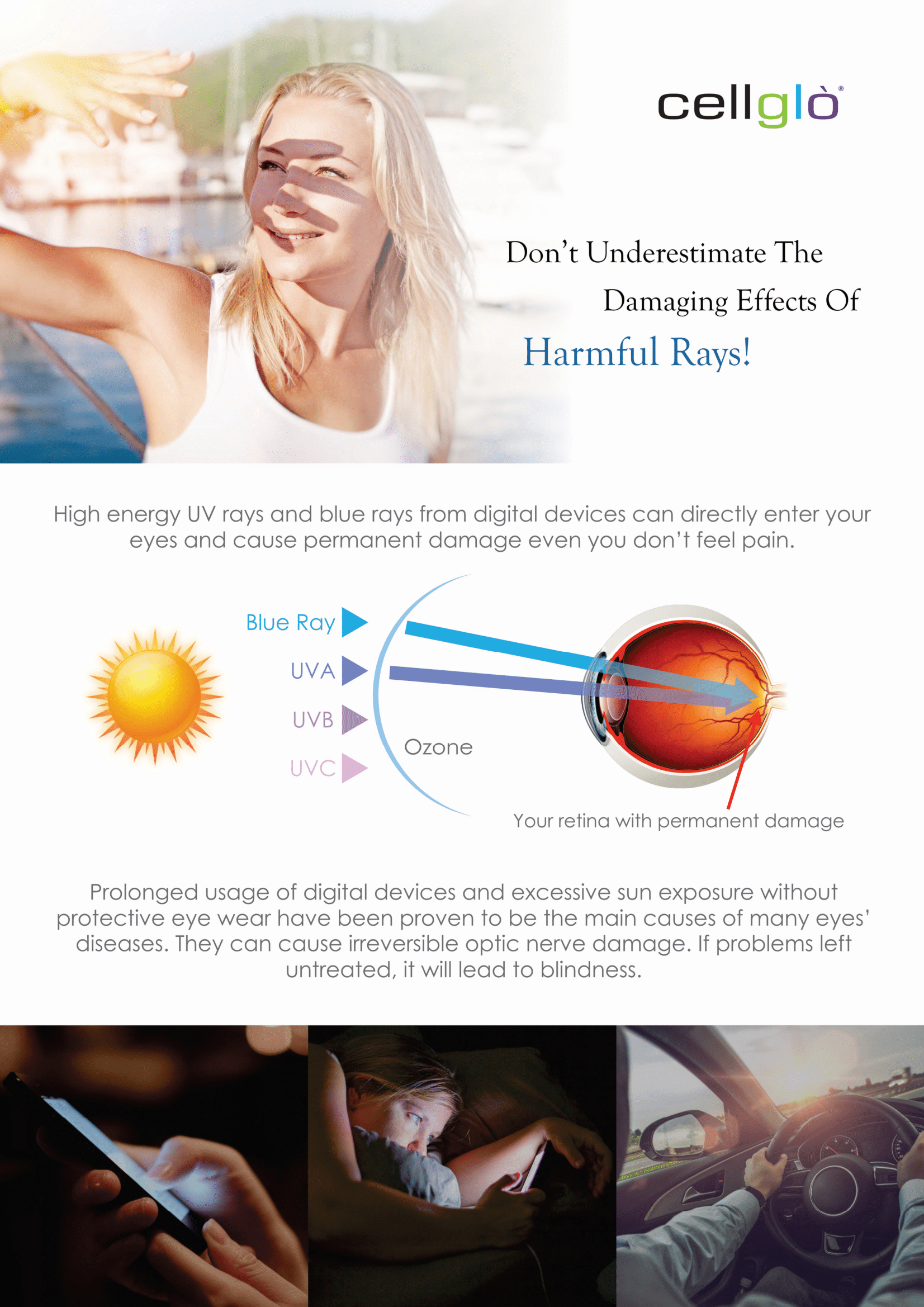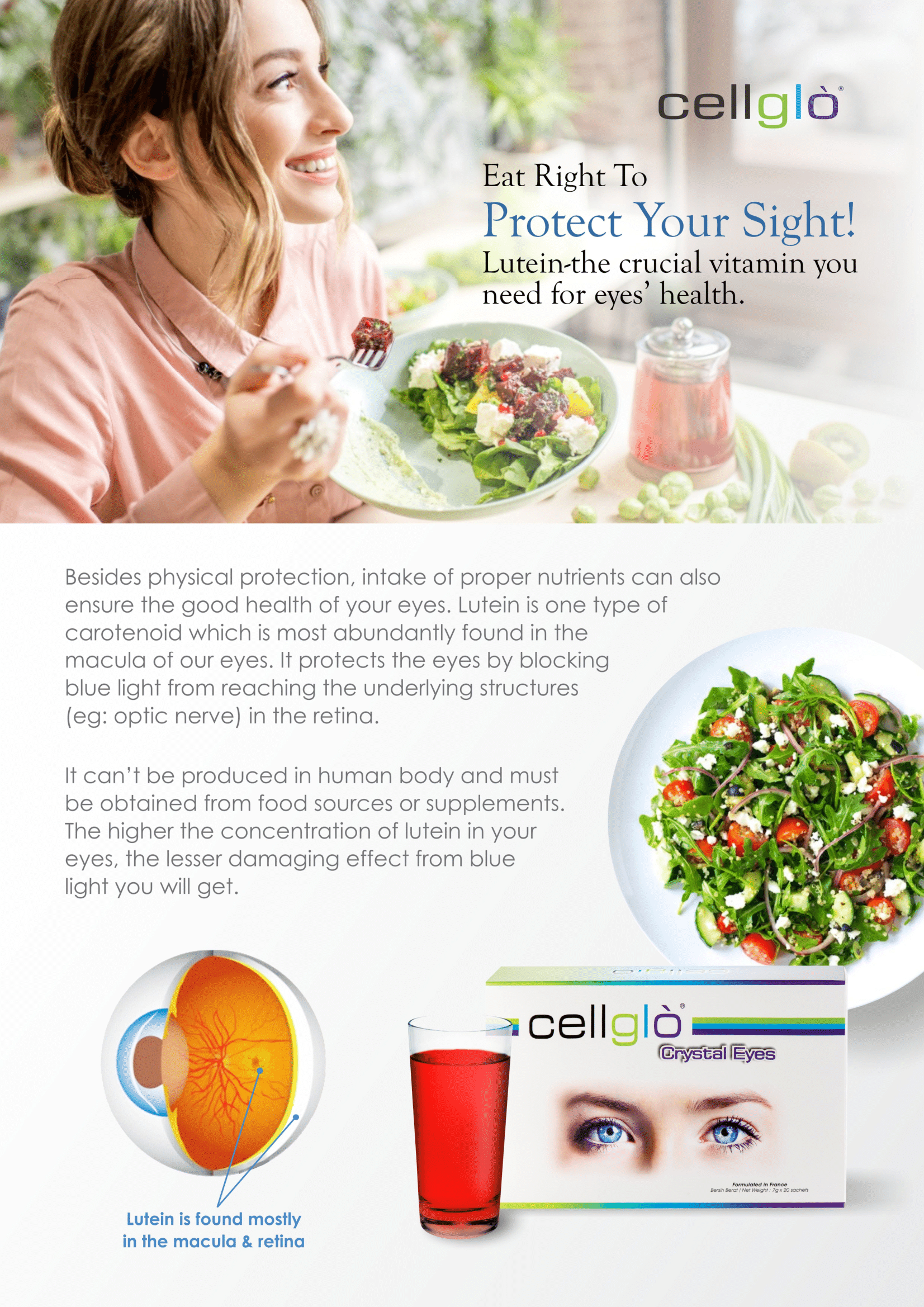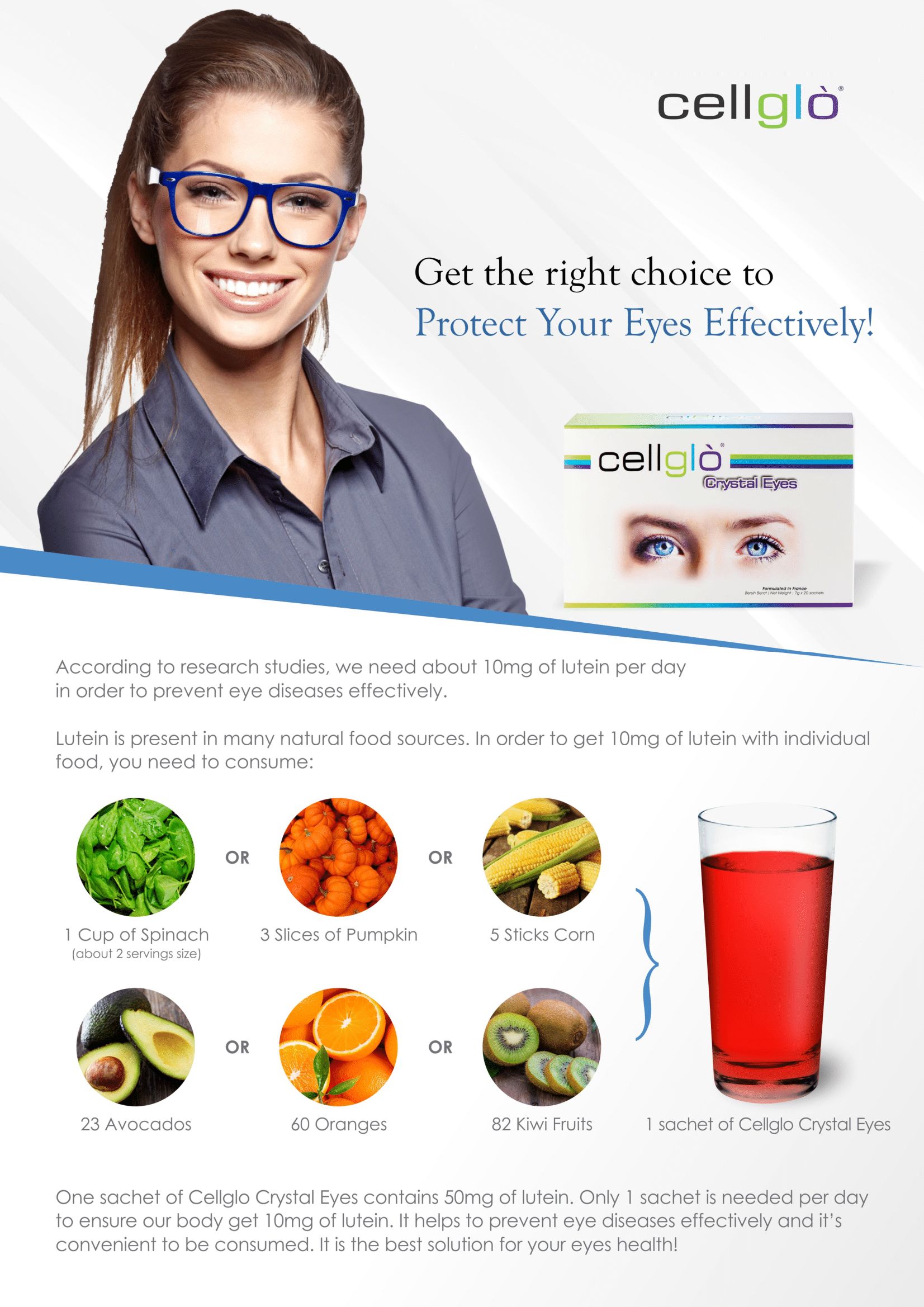 INGREDIENTS
Deep Cleansing Bar
Water, Glycerin, Portulaca Oleracea Extract, Lavender Fragrance, Glutathione, Limonia Acidissima Bark Extract, Algae Extract, Acetyl Hexapeptide-8, Pyrus Malus (Apple) Stem Extract
---
Creme21
Aqua, Dioscorea villosa (wild yam) root extract, Glycine soja (soy) Phytoplacenta, Butylene Glycol, Aloe barbadensis leaf juice, Grapeseed oil, Pomace olive oil, Jojoba oil, Sunflower oil, Cetyl alcohol, Stearyl alcohol and Cetetch-24, Isopropyl Palmitate, Isononyl Isononanoate, Glyceryl stearate SE, Cetearyl alcohol, DL-Panthenol, Sodium Hyaluronate, Allantoin, Parfum (Rosemary), Ethylhexylglycerin, Tocopheryl Acetate.
---
Moisturising Sunscreen
Aqua, Zinc Oxide, Butylene Glycol, Methylene Bis-benzotriazolyl Tetramethylbutylphenol, Glycerin, Sodium PCA, Caprylyl Methicone, Prunus Amygdalus Dulcis (Sweet Almond) Oil, Polyglyceryl-2 Triisostearate, Olea Europaea (Olive) Fruit Oil, C12-15 Alkyl Benzoate, Isopropyl Myristate, Beta-glucan, Acrylates/Acrylamide Copolymer, Glycyrrhiza Glabra (Licorice) Root Extract, Iron Oxides, Allantoin, Aloe Barbadensis Leaf, Bisabolol, Dipotassium Glycyrrhizate, Sodium Hyaluronate, Parfum, Ethylhexylglycerin
---
Crystal Eyes
Lutein, Astaxanthin, Mixed Berry Powder (Blackcurrant, Blueberry, Cranberry, Elderberry, Raspberry, Red Grape, Strawberry), Bilberry Extract, Malic Acid (Green Apple), Fructose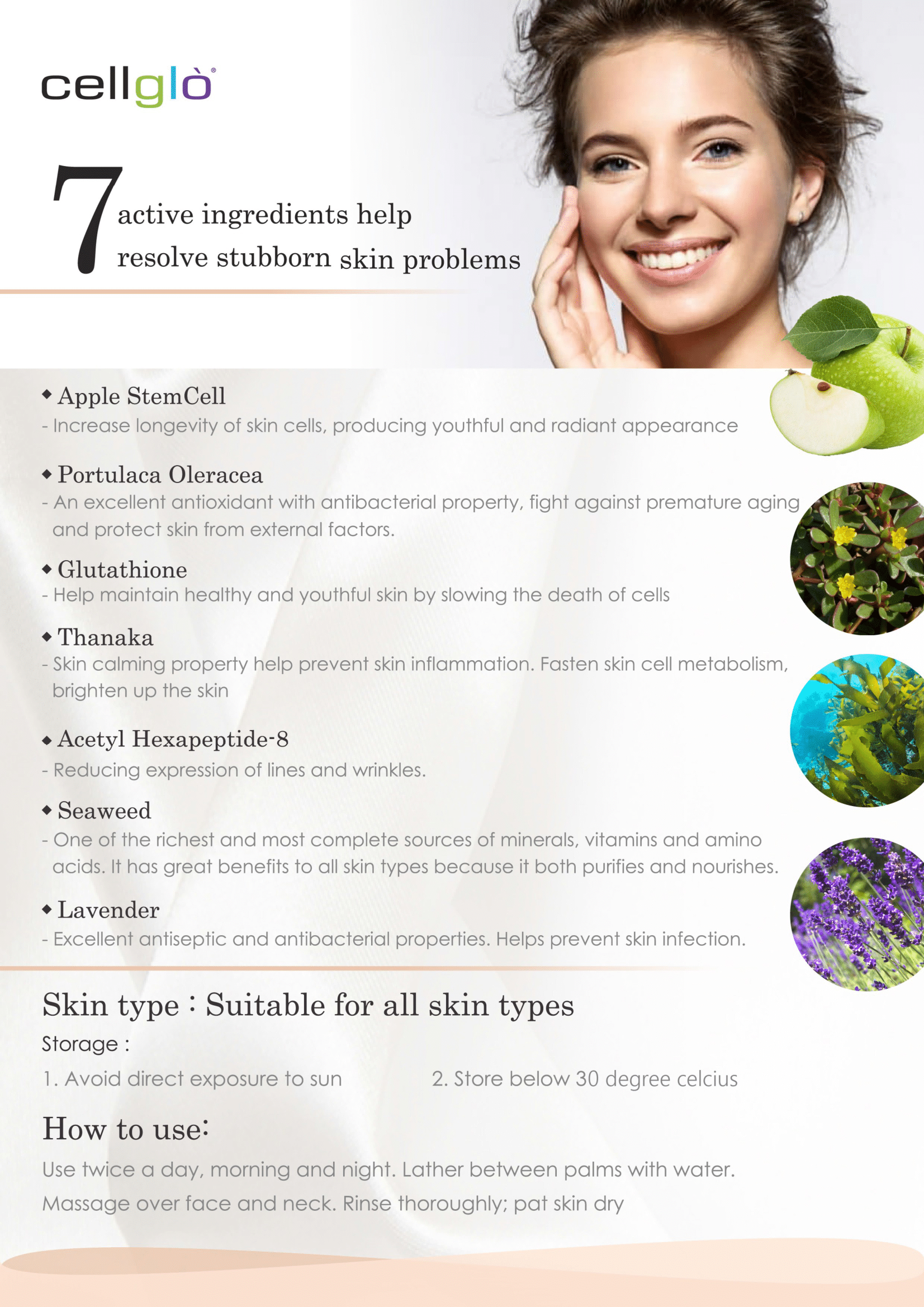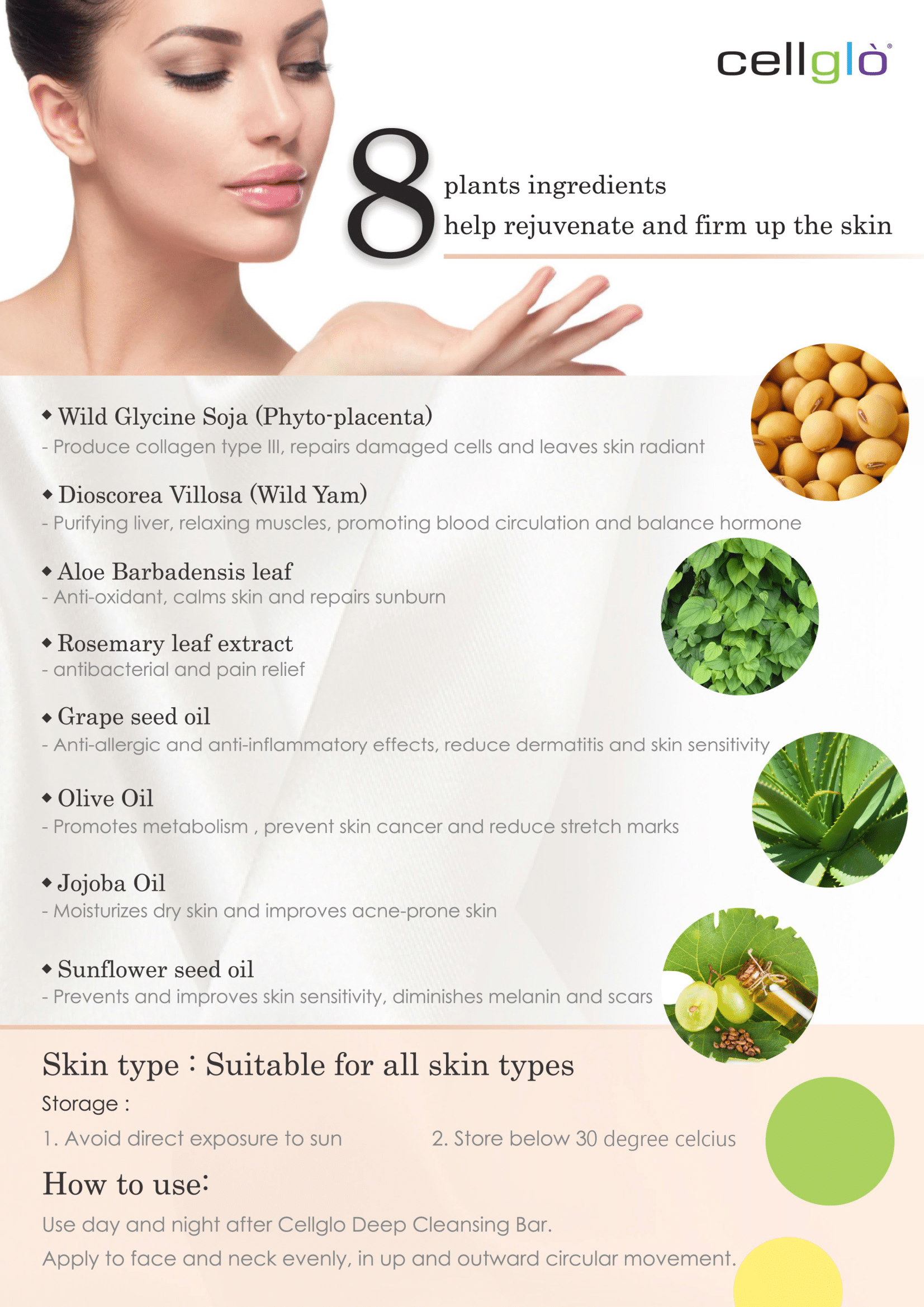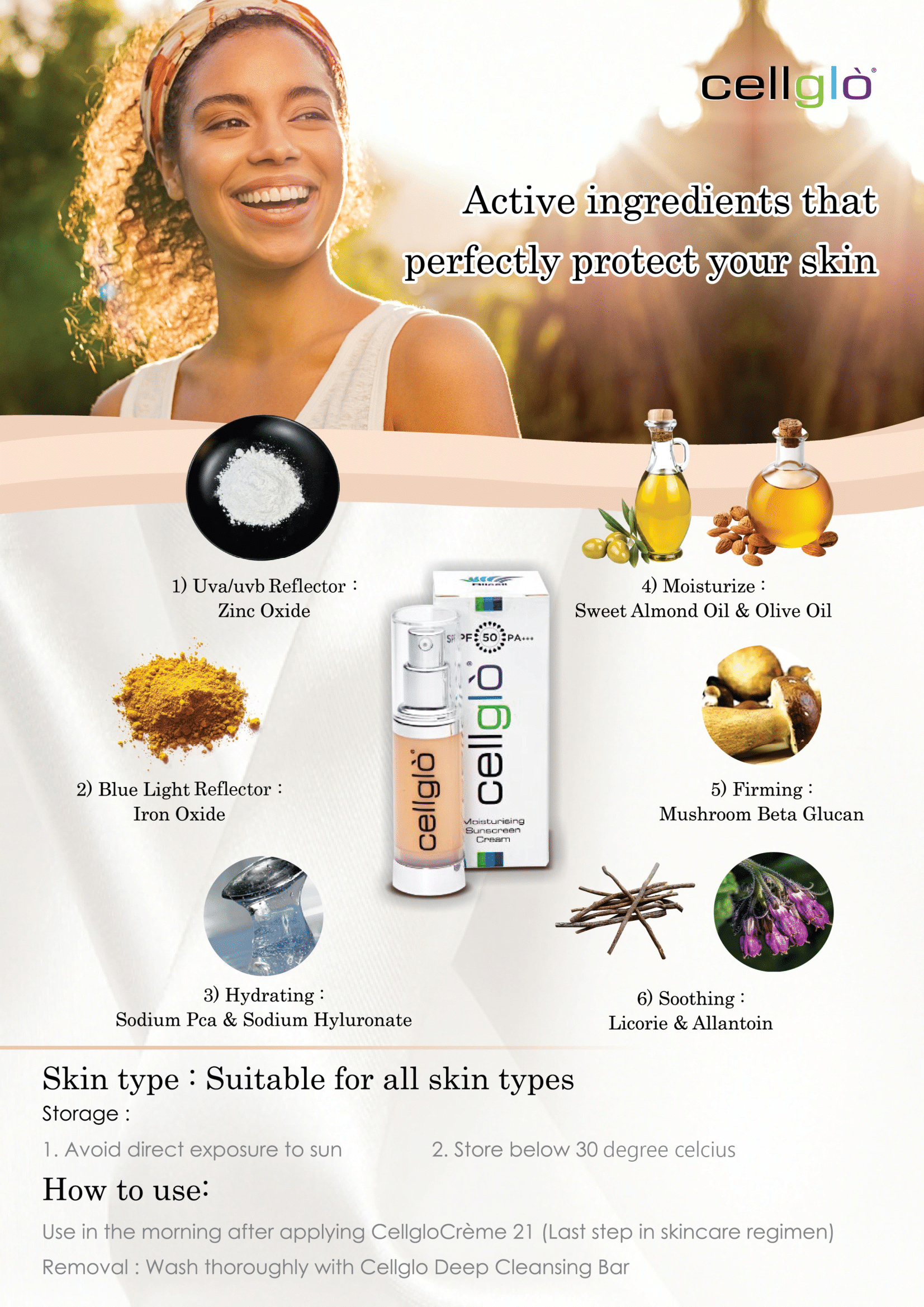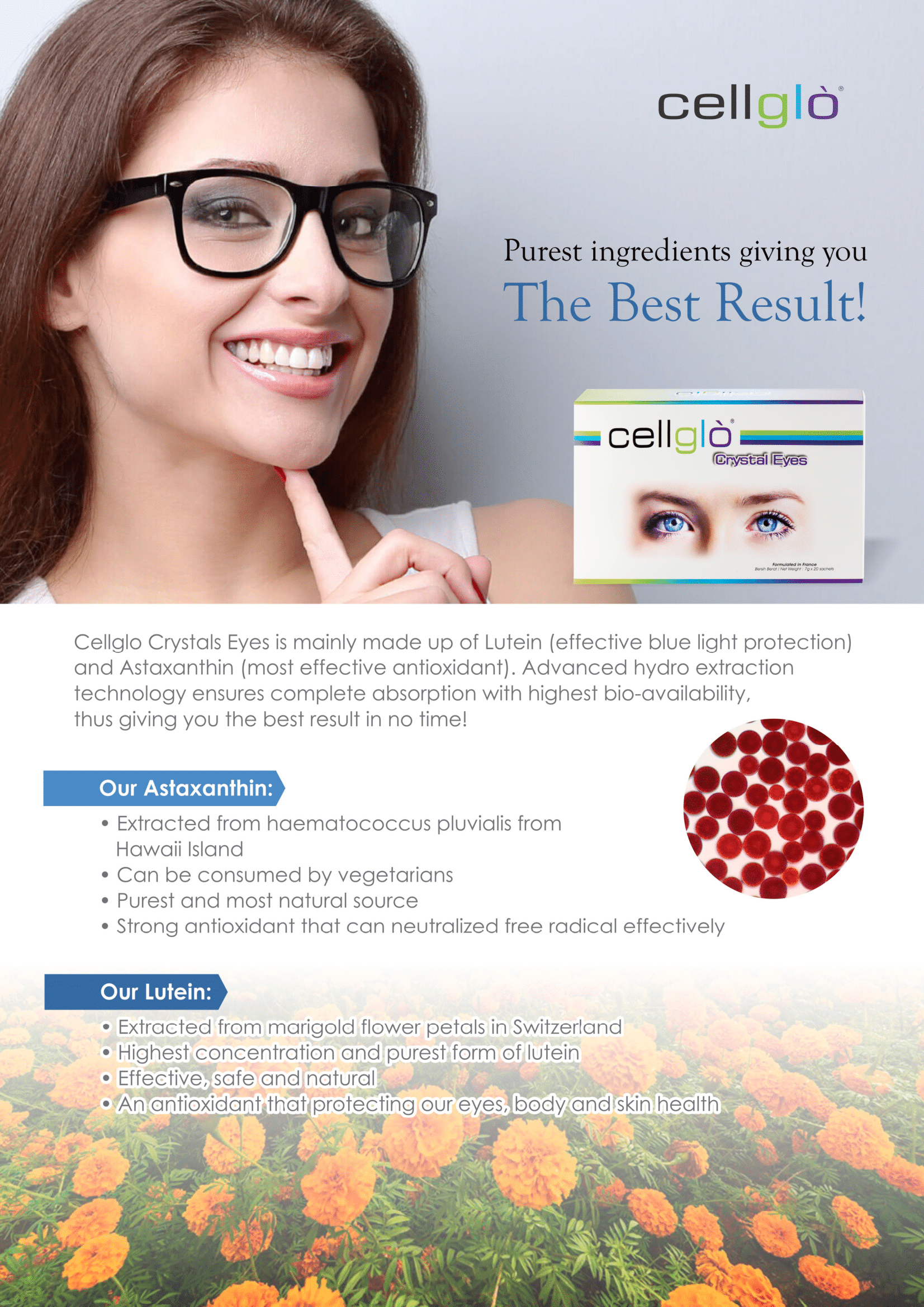 DIRECTIONS
Steps of Using Skin Care Set
- Morning: Deep Cleansing Bar > Creme21 > Moisturising Sunscreen
- Afternoon: Moisturising Sunscreen
- Evening: Deep Cleansing Bar > Creme21
---
Deep Cleansing Bar
Wet both hands with clean water and lather with Cellglo Deep Cleansing Bar in bubble net. Can use to wash your face, body, hair, and brush your teeth. Rub gently with a circular motion then rinse off and wipe with a clean towel.
Recommend to cut the bar into 4 to 8 pieces to avoid sun/water exposure that causes melting.
Need to store below 30°C to maintain product stability.
---
Creme21
Apply the cream on thoroughly cleansed face and body areas, then massage gently to ensure maximum absorption. Use minimal twice a day or as regularly as needed.
Attention: Cellglo Creme21 cannot use together with other skincare products that contain alcohol, mercury, and chemical substances.
---
Moisturising Sunscreen
Apply evenly over face, recommended to reapply every 2 to 3 hours while in direct sunlight / after sweating or swimming.
---
Crystal Eyes
Mix 1 sachet with 150ml of mineral water/filter water. Stir till the powder is dissolved and consume immediately. Recommended drinking in the morning before meal. Suggest taking 1-2 sachets daily.
FAQ
Click here for Deep Cleansing Bar FAQ
Click here for Creme21 FAQ
Click here for Moisturising Sunscreen FAQ
Click here for Crystal Eyes FAQ
NET WEIGHT
70g x 1 bar (Deep Cleansing Bar)
30ml x 1 bottle (Creme21)
30ml x 1 bottle (Moisturising Sunscreen)
7g x 20 sachets / box (Crystal Eyes)
TESTIMONIAL
Click here for Deep Cleansing Bar Testimonial
Click here for Creme21 Testimonial
Click here for Moisturising Sunscreen Testimonial
Click here for Crystal Eyes Testimonial
Customer comments
| Author/Date | Rating | Comment |
| --- | --- | --- |